Razor Wire Security Barrier System
Views: 57 Author: Site Editor Publish Time: 2018-04-22 Origin: Site Inquire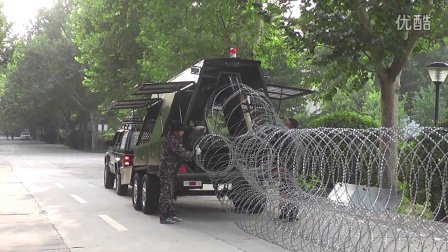 Razor wire mesh barrier system, cloth barrier fast retractable system adopts all-electric remote control to collect net and cloth net form, 2 people operate safe, convenient, fast, 3-layer gill net or 2-layer knife gill net cloth barrier form, prevent breakthrough performance Strong. The unit knife gill net transport and the form of barriers are adopted. Each unit knife gill net can be connected end-to-end, fast locking, and it can be used for large-scale deployment.
The concertina razor wire rapid deployment system is a road vehicle designed entirely by zhengyang a barrier to 100 meters concertina can be deployed in just seconds, establishing a security perimeter quickly and effectively. in order to provide rapid passive safety protection of through razor wire deployment, anywhere.
Our advantage:
1. Fast arming: The Razor Wire Trailer can be deployed for 100 meters in 20 seconds. The obstacles can be recovered within 4 minutes.
2. Automatic recovery function.
3. Modular production, easy disassembly and assembly can save transportation and storage costs.
4. The traction part can be folded or disassembled to save space.
5. Strong storage capacity.
6. Brushless motors make driving quieter and extend the service life of the motor.
7. The control system includes manual buttons and a remote controller; the device has both an oil-disc brake and an electric brake function.
8. Owning to the search lights, turn signals, tail warning lights and warning light tops, safety factor can be increased.
We provide work clothes, gloves (stainless steel gloves available), tool box and first aid kit.