Mobile Razor Wire Security Barrier
Views: 12 Author: Site Editor Publish Time: 2018-12-14 Origin: Site Inquire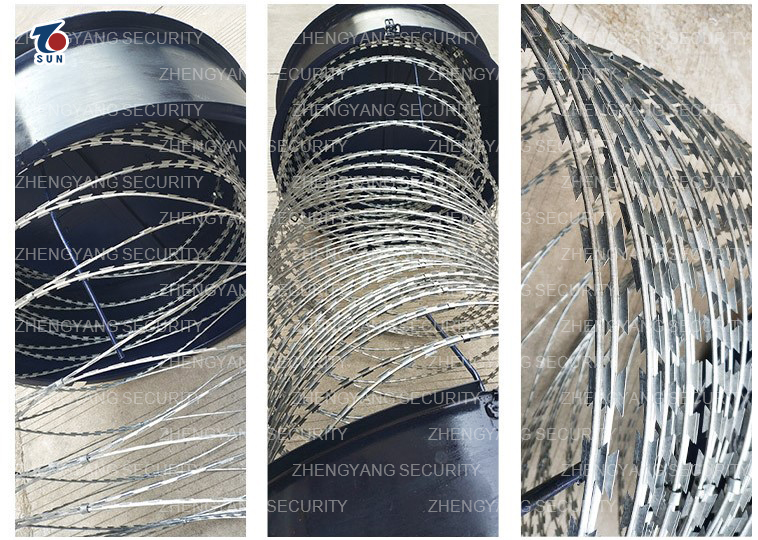 Mobile Razor Wire Security Barrier
The Mobile Razor Wire Security Barrier is firm and stable, and the operation is fast and simple. It can effectively implement isolation, traffic blockage and regional control. In order to maintain social security order, ensure public safety, standardize and guarantee public security organs and their people's police to perform public security management duties according to law. positive effects. Widely used in military facilities, airports, warehouses, prisons, enterprises and institutions fortification and border defense, riot, isolation and so on.
Product parameters:
Dimensions: diameter Φ900 × width 865mm (storage state), net: single group of snake complex telescopic blade steel barbed wire, diameter Φ800mm;
2, stretching length: 10m barrier size: 800mm, other accessories: support frame, fixed pile 4;
3, product weight: ≤ 58kg (with accessories), ≤ 37kg (without accessories). customizable
Specifications of the blade gill net:
Model: blade gill net is divided into BTO and CBT
BTO includes BTO-10 BTO-18 BTO-22 BTO-28 BTO-30
CBT includes CBT-60 CBT-65
BTO-22 is the most commonly used model in China (other models can also be customized)
Barbed wire material: hot-dip galvanized, stainless steel plate (304, 316)
Features:
The drum wire obstruction net adopts the professional protection grade snake complex type telescopic blade steel barb mesh structure. The metal blade adopts the molding process to combine with the steel ring, and the ring and the ring are connected by metal buckles, which are firm and reliable, and are detachable.
Product advantages:
We upgrade the products in this product according to the market demand. The existing three groups are armed at the same time to solve the problem of the previous single group. The single-group barrier network is used for isolation and traffic blocking in general, to maintain social order and ensure public safety. Wait.
Three sets of drums can also block the protection and isolation of vehicles and some important places.