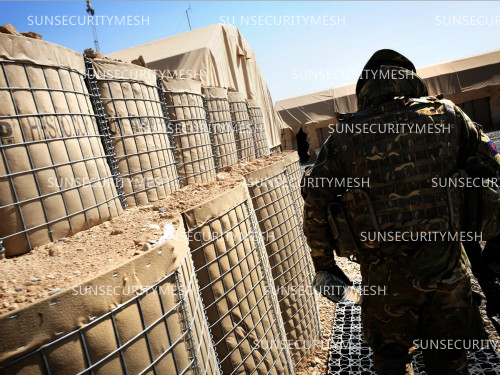 Military Defensive Barrier
Product Abstract:
Military base perimeter use: Joesco defense bastion is huge earth-filled bags, such as multiple cabin offices, living and dining quarters, command and communications posts or field hospitals, fire station, police force with all-round protection from both ground level and overhead attack.
Product Description
material:Hot Dipped Galvanised
Wire Dia:4mm-5mm
Mesh Size:75mm x 75mm or 3'' x 3''
Dimension:1.37m×1.06m×10m
Cells:5+4=9
Geotextile Fabric:300g/㎡
Color:Grey,Beige or Military Green
Package:wrapped with shrink film or packed in pallet.
Application:Military Defensive Barrier, Flood Barrier, etc.
Military defensive barriers are used for government applications aroud the world to protect personnels and assets such as embassies and united nations peacekeeping activities. The military barriers are not only deployed along the boundary as a perimeter security barrier wall, but also are able to deploy over rough terrain whilst saving much time and workforce to deploy a bastion wall in a short time.
Delivering a complete security solution is the main role the blast barrier should act, moreover providing checkpoints and watchtowers along vast international borders or during the war. Generally in the war it is necessary for troops to have the ability of building a firm camp bastion barrier rapidly as a temporary military base。