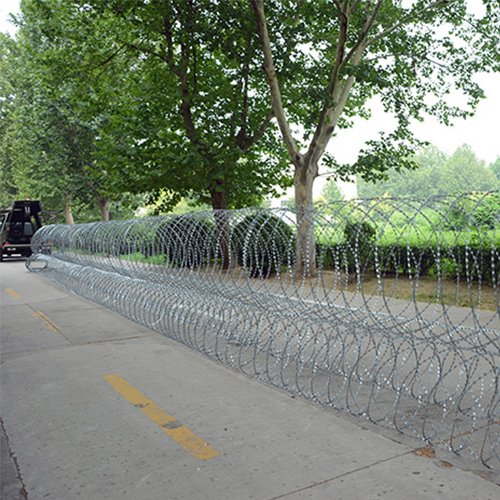 Razor wire trailer also called razor wire rapid deployment system, is especially designed for pulling out and pulling back the razor wire in coil. Generally the contracting system includes two kinds of systems: automatic system and semi-automatic system. Compared with the current manual system, it is easy to operate, thus manpower and time is saved. Generally, it can be used in some public emergency events, like activities of riots or demonstrators, activities of area police and military. With the rapid deployment system, the security fence wire can be installed and contracted rapidly and safely.
RAPID DEPLOYMENT TRAILER SPECIFICATIONS:
2 x 730, 1 x 980 galvanized wire (275 gms m2), blade thickness 0.5mm;
5 x 730, 1 x 980 galvanized wire (275 gms m2), blade thickness 0.5mm;
Reflective, anti-stretch cable;
"DANGER" board on the barrier;
Galvanized inner frames;
Free standing tailgates;
Inner frame lock system
Surface treatment: Phosphating treatment, a protective film on the surface is a longer life
Applications
The trailer deployment system can set up the razor concertina wire for common security protection, such as preventing potential thieves from invading your house, warehouse or factory, preventing animals from treading on your garden and blockading for road construction. In additional, it is also widely used in emergency events or military activities, such as forming a rapid razor wire barrier for riots or demonstrator activities, barricade for accident sites, national defense.