rapid wire deployment system
Views: 0 Author: Site Editor Publish Time: 2020-03-03 Origin: Site Inquire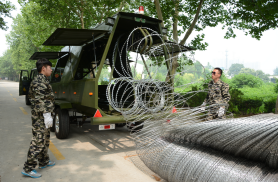 Rapid Wire Deployment System
The Rapid Wire Deployment System is a security tool, it's formed by Rapid Wire which is intended to form security fences quickly and easily in just seconds anywhere.
Product type:
The market currently has two types: 3D TYPE and 6D TYPE.
3D-structure: 100 meters per, 100 meters as a group;total barrier deployment length 100 meters;
6D Structure: 50 meters per group; 2 groups per carrier; total barrier deployment length 100 meters.
Product advantages:
Fast Armament: Shaver-line trailer can deploy 100 meters in 20 seconds. Obstacles can be recovered in 4 minutes.
2. Automatic recovery function.
3. The solar panel can be used for charging, and the DC charging port can be used for manual charging.
4. Strong storage capacity.
5. Brushless motor makes driving quieter and prolongs the service life of motor.
6. The control system includes manual button and remote controller. The device has the functions of oil disc braking and electric braking.
7. Because of the top of searchlights, turning lights, taillights and warning lights, the safety factor can be improved.
Surface treatment is advanced phosphating and spraying only car paint used in this way, never rust
8, envelope structure: unitary frame welding structure, the body frame is made Q235A, to ensure rigidity and strength. The high-rust-proof steel plate is used to make the outer skin of the car body, and the carbon dioxide gas shielded welding process skeleton is used.
9.The outer surface of the body is sprayed with military phosphating and topcoat, and the paint color and pattern are specified by the public security system or customer.

Applications:
In additional, it is also widely used in emergency events or military activities, such as forming a rapid razor wire barrier for riots or demonstrator activities, barricade for accident sites, national defense.