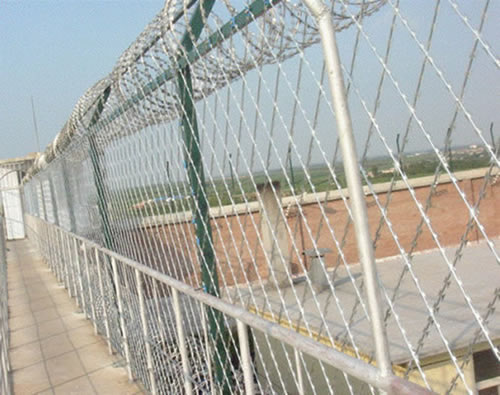 Welded razor wire fence, razor wire is welded into the razor wire diamond hole or square hole, if you want to climb climb, razor wire mesh sharp blade, the hand can not hold, the foot can not climb strongly blocked human The overpassing protective wall has strong intimidation and blocking effect, which is both beautiful and practical. It is deeply loved by prisons, military and government facilities.
Welding process: Straight razor wire is welded into a diamond-shaped thorn mesh. Mesh: 5X10, 10X15, 10X20 (other meshes can be customized according to customer requirements).
Specifications: BTO-10, BTO-15, BTO-18, BTO-22, BTO-28, BTO-30, CBT-60, CBT-65.
Material: galvanized steel wire core preferably, the sheet is hot dip zinc or stainless steel sheet high. It can also be sprayed or coated on the surface to achieve better antiseptic and acid and alkali resistance and prolong the service life.
Can be used for security windows, high-speed guardrails, barriers. The construction is rapid and the effect is remarkable. There are various erection methods to choose from, which saves the funds and can achieve the effect of deterrence.
Features: anti-corrosion, anti-aging, anti-sun, weather resistance and other characteristics. Anti-corrosion forms are electroplated and hot-plated.
Welding blade gill net specifications (special specifications can be customized)