Razor wire Physical Barriers
Views:5 Author:Site Editor Publish Time: 2019-04-10 Origin:Site Inquire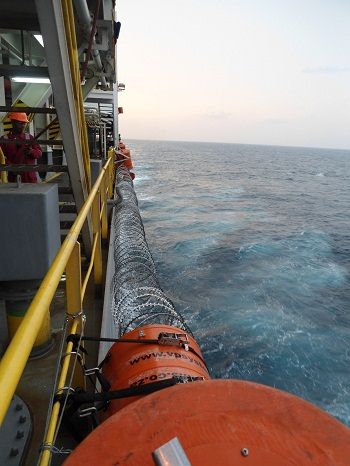 With ever increasing piracy threat from Gulf of Eden, Red Sea, North Arabian Sea and near the coastline of India it has become important to fortify the vessels for passive purpose (deterrence) and for active purpose (defence)
Each vessel has its own vulnerabilities, which pirates will aim to exploit in the event of an attack, including areas of low freeboard and areas where grapples, ladders and other tools can be attached to allow access.
Pirates typically use long lightweight hooked ladders, grappling hooks with rope attached and long hooked poles with a climbing rope attached to board vessels underway. Physical barriers should be used to make it as difficult as possible to gain access to vessels by increasing the height. The World Shipping Council (WSC) is playing an active role in the development of the industry Best Management Practices (BMPs) for ships to prevent and respond to pirate attacks.

Razor wire creates an effective barrier but only when it is carefully deployed. The barbs on the wire are designed to have a piercing and gripping action. Care should be taken when selecting appropriate razor wire as the quality (wire gauge and frequency of barbs) and type will vary considerably.
Concertina razor wire (linked spirals), available in approx. 750mm or 950mm each coil of 15 meter as the linked spirals make it the most effective barrier. When deploying razor wire personal safety and protective measures are required
Specifications of bayonet blade:
| | | | | | |
| --- | --- | --- | --- | --- | --- |
| specifications | Bladethickness | Core wire diameter | Blade length | wide | clearance |
| BTO-10 | 0.5±0.05 | 2.5±0.1 | 10±1 | 13±1 | 26±1 |
| BTO-12 | 0.5±0.05 | 2.5±0.1 | 12±1 | 15±1 | 26±1 |
| BTO-18 | 0.5±0.05 | 2.5±0.1 | 18±1 | 15±1 | 33±1 |
| BTO-22 | 0.5±0.05 | 2.5±0.1 | 22±1 | 15±1 | 34±1 |
| BTO-28 | 0.5±0.05 | 2.5 | 28 | 15 | 45±1 |
| BTO-30 | 0.5±0.05 | 2.5 | 30 | 18 | 45±1 |
| CBT-60 | 0.5±0.05 | 2.5±0.1 | 60±2 | 32±1 | 100±2 |
| CBT-65 | 0.5±0.05 | 2.5±0.1 | 65±2 | 21±1 | 100± |

using razor wire is effective when constructed on ship structure, deployed double or treble roll of wire, and secured the razor wire with a wire rope through the razor wire to prevent it being dislodged