Rapid and safe system
Views: 1 Author: Hebei Zhengyang Wire Mesh Products Co,Ltd Publish Time: 2016-07-21 Origin: Site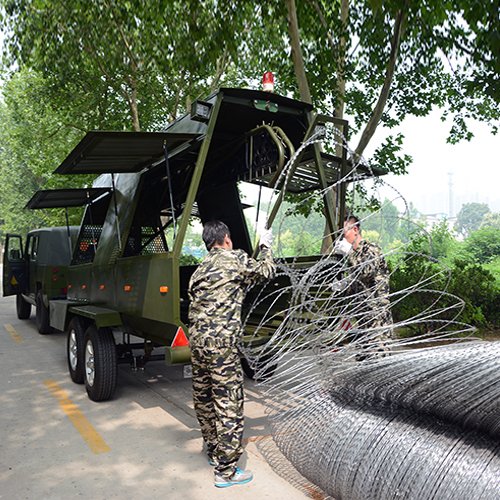 Mobile Security Barrier Solve Emergency Problems
Mobile razor wire can be moved to any place
Both ends of razor wire are fastened to steel frames forming mobile razor wire barrier
It is designed for rapid deployment of effective barriers during the police and other special operations, used in security and rescue or riot control. It is a serious obstacle to the entry of people and vehicles. Mobile razor fence security barrier is packed in a container. The container is made of wire with a diameter of 6 mm in the form of 2 baskets with 4 knobs and 3 locks to connect the circuit and baskets for transporting. It is a spiral security barrier concertina enclosed in a specially designed lightweight cassette that provides the ability to quickly deploy, collapse of the barrier, and its safe transportation. The mobile security barrier is designed for portability, expanding and collapsing the calculation of two people. Ease of assembly is ensured by special hooks. The ends of the coil fixed to the basket brackets. On handles attached rope with hooks to secure the baskets for the materials at hand when you install the mobile barrier.
Advantages:
Vehicle barrier distance up to 90 meters or more
Features:
1、Long barrier distance:Vehicle barrier distance up to 12 meters
2、Fast and convenient operation:can be completed deploy or recover in 5-8 minutes with 2 persons
3、Not affected by terrain:The Rapid Deployment Razor Wire Barrier can be used on flat terrain, pits, slopes, small obstacles, and other terrain
4、Wide range of uses: The barrier net can realize the combination of "一", "S", "U" and other barrier structures, and can be used in single or multiple groups; the connection can be set to capture doors.
If you want to have more details of our product or are interested in our products, please be free to contact us. Contact information:
Tel: +86-311-67263936
Email:sun@sunwiremesh.com