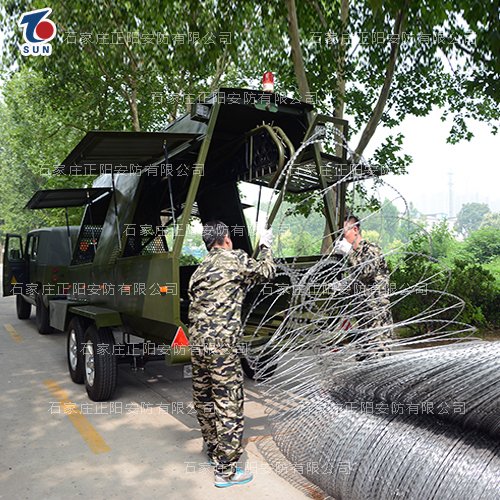 FEATURES & BENEFITS
Barriers are fully recoverable and reusable. Equipment is supplied to upload and recompress the barrier into modules – simple to handle and compact to store. A single carrier unit can be quickly refilled to drop many miles of barrier in a short period of time.
•Semi-manual or automatic motorized collector
•Standard trailers
•Standard tires
•Customized paint to fit any requirements
•Three or six coil deployment
•Unit size varies upon model selection
SPECIFICATIONS
•Deploys 75-100 meters (246–984 feet) in 20-30 seconds
•Refillable
•Approximate weight of trailer excluding barrier: 5,291 lbs. empty; 9,259 lbs. loaded
•Rapid Barrier Modules: Trailer capacity is four modules. Each module is 100 meters (246 feet) long and weighs 992 lbs.
•Barrier collects with reversing/manual operation which is assisted with the electric collector wheel
•Electric winch barrier compactor supplied
•Shipping: Trailers shipped (in knockdown condition) plus 100 meters barrier in 40 foot container.
specifications are presented here for conceptual understanding only. Each model varies in size and capabilities. Each Rapid Deployment Barrier System can be customized to meet the customer's requirements.
APPLICATION
Applications include crowd control and riot prevention, prisoner short term detention, site security, augmented fence perimeter security, and quick site security protection.