Rapid Deployment Barrier SD 500
Views: 8 Author: Site Editor Publish Time: 2018-10-24 Origin: Site Inquire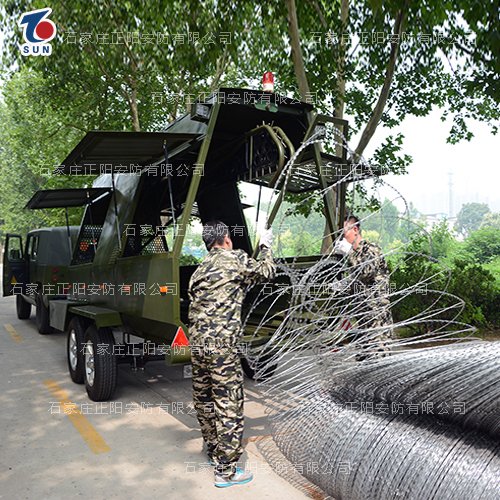 The Rapid Wire Deployment System is a security tool, it's formed by Rapid Wire which is intended to form security fences quickly and easily in just seconds anywhere.Transport and collection of our Rapid Wire Deployment System, is very simple, because the metal brackets incorporated into each end of the razor wire roll , can be expanded without the dump itself.
Advantage:
•The Rapid Deployment Barriers are fully recoverable and reusable.
•Depending on which end-use model deployment barrier is desired, for police and military usually is automatic deploy(set up) and retrieve (withdraw). For boundary / border usually is automatic deploy(set up) and no need withdraw or no need automatic retieve(withdraw) function.
•Retrieve(withdraw): push the trailer backwards making the opened razor barbed tape/wire to go back to the trailer automatically without any man-help until the trailer gate has been put back to place.
•A single barrier unit can be quickly refilled by folklift, then drop many kilometers in a short space of time.
•Each rapid Deployment Barrier System (concertina razor wire mobile security barrier ) can be customized to meet customers exact requirements.

Mobile Security Barrier is one of the specially equipment used for National Defense, protest & riot control, coastline defense against enemy army, barricade for accident sites, and blockage for road construction, or important entrances & exits, provide rapid passive safety protection of through razor wire deployment, anywhere.