Prison plum blossom isolation net
Views: 4 Author: Site Editor Publish Time: 2019-01-14 Origin: Site Inquire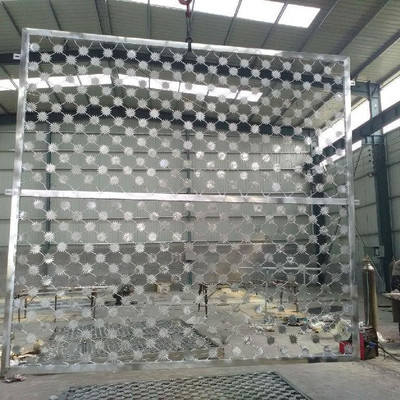 prison plum blossom isolation net
The Anti-theft iron mesh net is also called the anti-theft iron net, the diamond-shaped net, the prison segregation net, the prison plum blossom isolation net and the snake belly net are used together, which makes people discouraged and breaks people's luck.
parameter:
Material: US mesh material selection of high-quality low-carbon steel plate, aluminum plate, stainless steel plate, titanium plate, aluminum foil plate 1. Prison plum blossom isolation net is a single-layer plum thorn mesh, diameter not less than 7.5cm, thorn thickness 1.5mm, using Q235 low carbon steel plate is stamped and formed with one solder joint for each solder joint.
specification:
Material: Q235 low carbon steel wire, magnesium aluminum alloy wire, galvanized wire, modified wire
Silk: 3.5mm-6.0mm
Aperture: 5 cm × 5 cm ~ 15 cm × 15 cm.
Net length: 1.0m-6m
Net width: 1m-2.0m
Production process: punching and drawing, the hole type is generally diamond shape, hexagonal shape, can be customized shaped hole
The column is made of Q235 steel pipe. Specifications: diameter 114 pipe, wall thickness 4mm
Surface treatment: Dip, plastic, spray, plastic, hot-dip galvanizing, electro-galvanizing.
Features: sturdy and durable, high strength, impact resistance, easy installation, anti-aging, no rust, corrosion resistance, beautiful appearance, high quality and low price
Uses: It can be used for protection against theft of doors, windows and air conditioners. It can also be used to make fence nets for highways, railways, airports, prison protection, etc.