Mobile Razor Wire Barriers
Views: 11 Author: Site Editor Publish Time: 2019-05-15 Origin: Site Inquire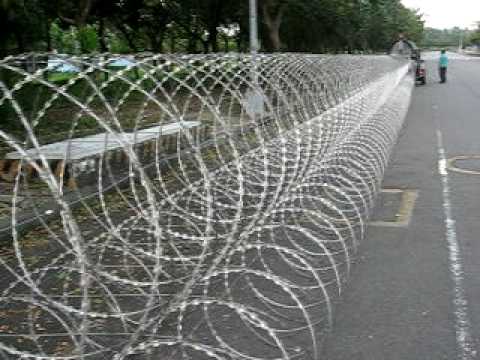 In addition to military and containment purposes, barbed wire is also used in embassies and consulates in some countries to prevent foreign hostiles from entering, especially in areas where the diplomatic relations between the two countries are in sinister areas, such as the US and Israeli embassies and consulates. And the mob attacked and installed a wire mesh at the top of the wall.
Razor Wire (Barbed Tape) is manufactured in accordance with specification NATO. The unique heavy duty clip is an important feature of the product. The weak link in many brands is the clip, which binds the wire into its tubular/concertina shape. A weak clip will part, providing an easy access point for the intruder. We incorporates a unique heavy duty steel clip designed to withstand a force of approx. 200lbs/100kgs, which cannot be parted by hand or with standard tools. DEVELOPMENT OF RAZOR WIRE CONCERTINA FROM BARBED TAPE / WIRE Originally barbed wire fulfilled the roll of perimeter security. As crime has escalated barbed wire became less and less effective. Petty thefts worsened and the need arose to replace barbed wire with a more effective alternative. The breakthrough came when a barbed fashioned tape was added to a high tensile wire.
Equipment can be supplied to uplift and recompress the barrier into modules, simple to handle and compact to store. A single carrier unit can be quickly refilled to drop many kilometers of barrier in a short space of time. Systems can be tailored to meet customers' exact requirements. No police or military orgnization can afford to be without this valuable tool, which substantially increases the effectiveness of forces on the ground.
Height: 1.7m
1. 2 x 730, 1 x 980 galvanized wire (275 gms m2), blade thickness 0.5mm;
2. 5 x 730, 1 x 980 galvanized wire (275 gms m2), blade thickness 0.5mm;
3. Reflective, anti-stretch cable;
4. "DANGER" board on the barrier;
5. Galvanized inner frames;
6. Free standing tailgates;
7. Inner frame lock system
Application:
For anti-terrorism stabilization, emergency response, border protection, road interception, etc.