Millitary blast wall barrier
Views: 2 Author: Site Editor Publish Time: 2019-05-09 Origin: Site Inquire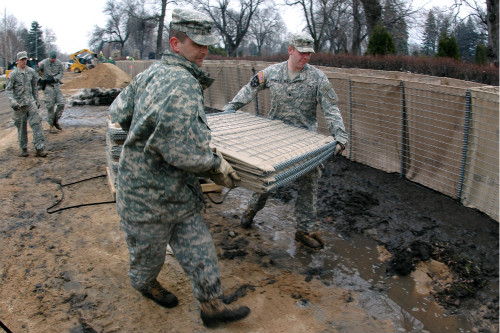 Millitary Blast Wall Hesco Barrier
Millitary blast wall barrier specification details as follows:
Specification:
Wire diameter: 4mm or 5mm.
Mesh size: 76.2mm*76.2mm.
Panel size: 1*1m,1*2m,1.5*2m,0.5*2m,2.12*1.52m,1.37*1.22m,2.21*2.13m and so on.
Spring diameter:4mm.
Surface processing: Hot-dipped galvanized, galfan coated after welded.
Explosion-proof net advantages:
1. Explosion-proof net surface is smooth and neat, mesh uniform, solder joint is firm, with strong fastness, corrosion resistance, permeability and integrity and other advantages.

2. The explosion-proof net is low cost and easy to install, making it an ideal choice for garden decoration and slope protection greening.
3. Strong ability to resist natural damage and adverse weather effects.
4. Excellent tensile resistance.
5. Explosion proof net site installation is simple, fast, convenient and beautiful structure, saving time and labor, high efficiency.
6 explosion-proof net installation time than the hexagon stone cage net save 40%. Compared with the hexagon stone cage net, welded stone cage net can better keep "cage" : when the filling is full, welded stone cage net panel is not convex not concave, keep the plane, not like the hexagon stone cage net drum up, so you can better with other stone cage net connection or with the wall as a whole.
Application:
1)Perimeter Security and Defence Walls
2) Protecting Existing Structures
3) Explosives and Contraband Search Areas
4) Protection engineering of seaside area
5)Defensive Firing Positions
6)Flood contro retaining wall
7)Coastal Erosion