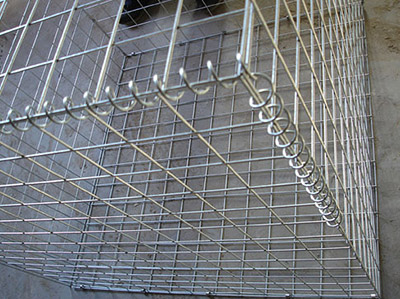 Gabions wire mesh baskets filled with rock at the project site to form flexible, permeable, monolithic structures such as retaining walls for commercial, industrial and road projects. When gabions are filled with stone they become large, flexible building blocks from which a broad range of structures can be built. Gabions are also used for erosion control, bank stabilization, channel linings, and weirs.
The gabions are twisted by the low carbon steel wire or pvc coated wire which one has corrosion resistance, high strength and malleable. On the basis of ASTM A 975 and EN10223 standard, the wire dia. can be customized as the project design requirements. Normally the wire dia. ranges from 2.0mm to 4.0mm, the tensile strength not less than 38kg/m2, the zinc coating should be higher than 245g/m2, and the selvage wire should be thicker than the body wire. To prevent the zinc coat and the pvc coating not destroyed, the lenth of the twisted part shouldn't be short than 50mm.
Material:
Galvanized wire: Low carbon steel wire,diameter 2.0mm-4.0mm,the tensile strength of the steel wire not less than 380Mpa,the surface of the steel wire are protected by the galvanized coatings, the thickness of the zinc coated can be customized.

Zinc-aluminium alloy steel wire:(Also called Galfan steel wire)this is a new popular material on the international. The corrosion resistance of this wire is 3 times of the traditional galvanized wire. The wire dia can be 1.0mm-3.0mm, and the tensile strength range 350-500 MPA.

PVC coated wire: Twisted gabions after coating PVC on the surface of the low carbon steel wire. The PVC coating can give great protection on the heavy-pollution environment. And the alternatively colors can make it harmonious between the gabions and the surrounding environment. PVC coating thickness 0.4-0.6mm.



Features:
Cheap and simple installation. No special technology needed.Just fill the stone into the gabions and bind it.

Corrosion resistant, and against influence from the bad climate like earthquake, flood etc.

No collapse even deformed from heavy destroyed.

Plant can be growed on the sludge between the stones in the gabion basket. This will helps the soil and water conservation.

Good permeation can prevent the damage from hydrostatic.

Less transport freight. It can be folded by transport and installation on the worksite.
Gabion applications:
Control and guide of water or flood;

Flood bank or guiding bank;

Preventing of rock breaking;

Water and soil protection;

Bridge protection;

Strengthening structure of soil;

Protection engineering of seaside area.