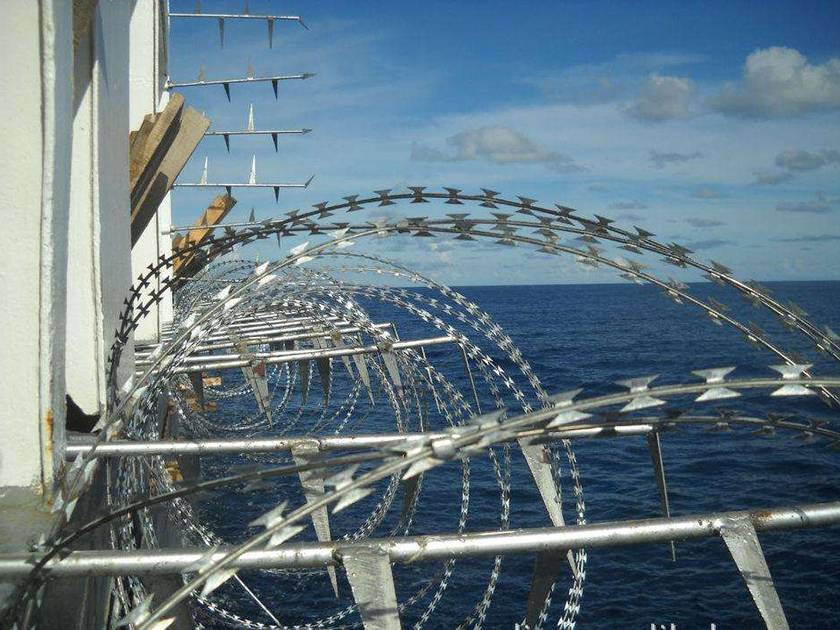 In the Middle East waters, merchant and cargo ships are frequently harassed by pirates and hijacking of ships often occurs. So how can we prevent and control ourselves in response to this situation, we have produced this product to prevent pirates from boarding the ship.
INSTALLATION
1)Put unit fence clamping bracket into the deck fish plate /gunnel or top of bulwark. 2)Fasten wing bolt to tighten the fence clamping bracket and gunnel or bulwark together. 3)Fix the fences along the deck side.one-by-one.
4)Recommended distance between installed units of fence is 220mm -270mm.
UNIT FENCE DIMENSIONS
1)Covered length of ship side:950mm(APSF-4T)/500mm(APSF-2T)/220mm(APBF-1T) 2)Length of outer bar including sharp point 680mm
3)Material: welded and galvanised steel 4)Packaging: fumigated and reusable box

PRODUCT FEATURES
- Minimal storage space needed. Units can be stored one-by-one close to each other.
- Able to be installed/dismantled easily and safely by one crew member.
- Reusable and built-to-last solid construction; each part is perfectly welded.
- Unique design with vertical and horizontal spikes effectively prevents pirates from boarding.
- This anti-piracy spiked fence, while highly effective, is more economical than electrified fencing or the hiring of security guards.
-Can cooperate with blade gill net to make protection more.
Application: Suitable for safety protection of ocean freighters and various merchant ships