The perfect combination of protection and beauty
Views: 1 Author: Site Editor Publish Time: 2016-07-15 Origin: Site Inquire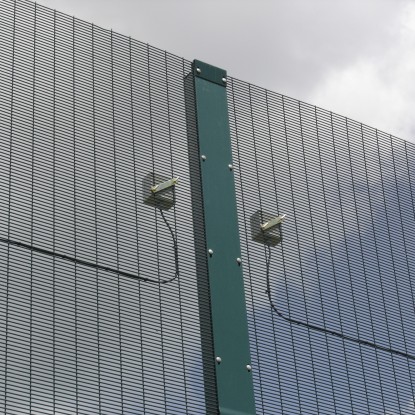 Do you usually find in these places which carry out strict management and requires artistic vision, where the barrier not only to strong strength and high visibility.For example,Airport security fencing,Psychiatric hospital security fencing,Prison Security Fencing and Shipping Port Security fencing and so on.Do you want to know: is this what kind of fence? I can loudly tell you it is 358 Anti-climb Fence.

We can imagine the scene that the fence of airport is other fence,as Chain Link Fence,the type of fence can intercept the crowd, but at the airport,our passengers need more visually-oriented feel in this environment, 358 Anti-climb Fence is apathetically in the family of fence. There are such occasions that require strong security at the airport, ordinary fence can intercept crowd simply, 358 Anti-climb Fence can completely prevent crowd and is difficult to climb and penetrate.


We introduce the 358 Anti-climb Fence,358 Anti-climb Fence is also called 358 Mesh Fence, or prison fence. It is usually installed with concertina razor wire coils or barbed wire on its top. This type is especially used for prison and military bases. 358 Anti-climb Fence has common specification of 76.2mmX12.7mm ( 3'' x 0.5'') aperture and a wire diameter of 4mm (Gauge 8). This security fence is welded with strong panels and small mesh opening, so it is very difficult to penetrate and to be cut off, providing reliable anti-cut barrier for prison-military establishments. It is also very difficult and time consuming to attempt to pass items from the protected area through 358 fencing.358 Mesh Fence offering the following benefits:
1.Resistance to cut,the quality of our products are with military-level,robust wire and welded joints make cutting very difficult.
2.Resistance to climb, more small openings, no toe or ore small-finger holds.
3.Alarm,Low wind resistance,is ideal to use with electronic detection systems & alarms.We can install electric alarm on this high security fence.
4.Better viewing visibility,flat, two-dimensional profile, easier to see through than chain link,in spite of the small mesh aperture the see-through characteristics of 358 remain unimpaired when viewed head-on and even at an angle to the fence.


In addition to airport security fencing,Our products also adapt the following occasions:
1.Bridge anti-climb guarding & guard safety screening
2. Sub-station Security Fencing
3.Airport security fencing
4.Psychiatric hospital security fencing
5.Prison Security Fencing
6.Shipping Port Security fencing
7.Factory Machine guards
8.Walkway security fencing
9.358 wire mesh fence gates


If you are interested in our products, you can contact us through the following contact:
Address: 158 Pingan Street, Shijiazhuang,Hebei,050000, China
Tel: +86-311-67263936
Fax: +86-311-67263936
Cell Phone:+86-131-3119-9924
Email:sun@sunwiremesh.com